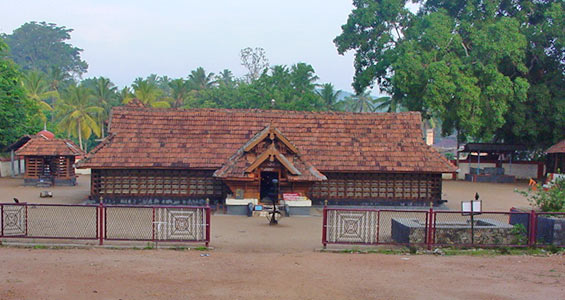 Kulathupuzha Sastha Temple is located on the banks of Kulathupuzha, a tributary of Kallada River in Pathanapuram taluk of Kollam district. The presiding deity here is Lord Ayyappa in the form of Bala Sastha. It is one among the 108 sastha shrines in Kerala. The idol here is believed to be installed by Lord Parashurama. The deity here is in a fierce mood (ugramoorthi) as well as in auspicious mood (mangalapradayakan). Shiva, Yakshi, Vishnu, Ganapathi, Boothathan, Nagar, and Karuppaswami are the other subordinate deities in the temple.
Legend says that the temple was founded by Pandalam raja, but the idol of Sastha was founded by a Brahmin from Kottarakkara. Earlier, the temple was under Kottarakkara raja and later hand over to Travancore Devaswom board. The pond near to the temple is another attraction. Devotees offer Meenoottu vazhipadu for healing the warts in the skin. All the devotees are so concerned about protecting the fishes in this pond, considering them as lord Ayyappa's favorite ones. Fishing is also strictly prohibited here. The tantric rights of the temple are held by Kokkalathu madom.
The temple is located in the reserve forest range of eastern Kollam. Thiruvananthapuram - Shenkottai highway passes through Kulathupuzha. Devotees from Tamil Nadu can approach the temple via Tenkasi - Shenkottai - Aryankavu - Thenmala route. The nearest railway station is Thenmala, approximately 10 km.
Vishu Mahotsavam in the months of April and May is the important festival. The Tiruvutsavam is celebrated in the month of Medam from 5th to 14th.